Portable car hoist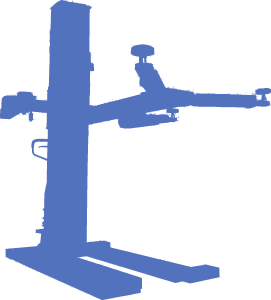 Capable of lifting around 2500kg – which is the average weight of a typical family car or small pick-up truck, an installed portable car hoist is a fantastic piece of equipment that's ideal for the weekend DIY car enthusiast, home garage, small workshop, paint & bodywork shop or anywhere that space is at a premium.
Super convenient and with total flexibility, today's modern designed fixed post portable hoists are reliable, straightforward to use, and can be moved as easily as a hand lift truck. Meaning that you can roll it straight under the car or place is where you want then drive the car on and lift up, and the lift can be brought in and out of the garage when you need the space or used in the yard to raise disabled vehicles. Portable car hoists can be used on any solid level type of flooring.
As a piece of garage equipment, a portable hoist provides one of the best and safe solutions for creating more parking space as well as small under a car service, in comparison to say something like floor jacks. Because not only do they come fitted with a hydraulic cylinder for more lifting power, they also provide a full lifting height with portability. Which not only makes for a far safer working environment, it also gives you nearly complete access to the underneath of the vehicle, while at the same time allowing you enough free space around the hoist to comply with the manufacturer's instructions and for you to work safely.
Talking of full lifting heights, the average maximum lifting height on most portable/mobile car hoists is around 1850 – 1950 mm, which is an ideal height for most people as it allows them to work in comfort and safety without straining. However, you need to remember that height is to the bottom of the car so you must ensure that there is still adequate ceiling height, for you to safely raise the vehicle without damaging either it or the building.
Furthermore, even though they may look a bit bulky most car lift designs are easy to install as they come almost assembled and ready to use. Having said that, they can weigh up to 720kg unloaded, putting them very much in the heavyweight class, which means, that unless you have been putting in some serious time at the gym, you're really going to need two people to complete the portable car hoist installation, and move the car lift when you have it loaded. The power unit on most portable post hoists only needs a regular household power supply of 230 volts, with fuse protection of 16amps.
When it's time to purchase your portable car hoist, there are a lot of different variables to consider before making the final choice and putting your money down. However, to help you here, there is an excellent mix of local reputable brands from here in Australia and international products to choose from, but make sure you buy the lift from a legitimate dealer, and that the hoist is safe work & CE Certified.
For more information on how to choose the right portable car hoist for your needs, or for top quality professional hoist assembling and installation, portable car hoist servicing and repairs, plus hoist safety inspection throughout New South Wales contact us via service@hoistcare.com.au or call us directly on 0491286636. We look forward to hearing from you.