2 Post hoist base plate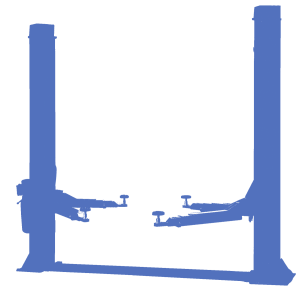 Typically, 2 Post car hoists come in two options, 'base plate' or 'clear floor' and in this piece, we are going to talk about the 'base plate' version and what that means. However, before we get on to that, let's take a look at what we mean by a 2 Post Car Hoist.
Designed with two weighty stand-alone post hoists, that are installed on to a concrete floor using heavy-duty anchor bolts (the posts can be fixed using reinforcement plates if the concrete floor doesn't have the thickness or strength to stand the weight of two post hoists) and connected by a steel base plate.
They are the ideal lift for car workshops and the larger home garage – where the rule of thumb is that you need the space of one and a half cars to install a 2 Post Hoist, paint, tyre, and bodywork shops along with service and maintenance centres.
A 2 post vehicle hoist can be single or three phase electric hydraulic motor, and capable of lifting up to 5500kg to a maximum lifting height of 1900mm, with lifting time of 45-50 seconds these 'big boys' vehicle hoists have more than enough power to safely lift the average family car, truck or even a small bus.
Okay, so now we know what a 2 Post Vehicle Hoist is all about, let's cover off what we mean by a 'base plate' option. Typically, for ease of use and safety on a 2 Post Hoist, the lift motor and all of the controls are fixed to either the inside or the outside of one of the posts, and then they are then connected to the other post by a protective metal base plate that runs along the garage floor for the width of the hoist – which you would think all seems fairly straightforward.
However, for some people they find the base plate to be a bit of a hindrance. Primarily because it does not give you clear access under the hoist, which means a couple of things. Firstly, if you have a large wheeled toolbox, oil collection tank or any other large piece of equipment you need to lift them over the base plate, which can be a bit of a struggle if they are on the heavy side. Plus when you're driving the vehicle on or off the hoist, you are going over the base plate, which can give you some clearance issues if the vehicle is low or if it's fitted with a body kit.
When it's time to purchase your 2 Post Hoist, there are a few things to consider before making a final choice. However, to help you there are several reputable brands from Australia and international products to choose from but, make sure you buy the lift from a legitimate dealer, and that the hoist meets the Australian Standard (safe work NSW).
For more information on how to choose the right 2 Post Hoist with a base plate installation, or for top quality professional hoist assembling, installation or hoist relocation, 2 post hoist with base plate service and repairs, plus hoist safety inspection throughout New South Wales contact us via service@hoistcare.com.au or call us directly on 0491286636. We look forward to hearing from you.