4 Post hoist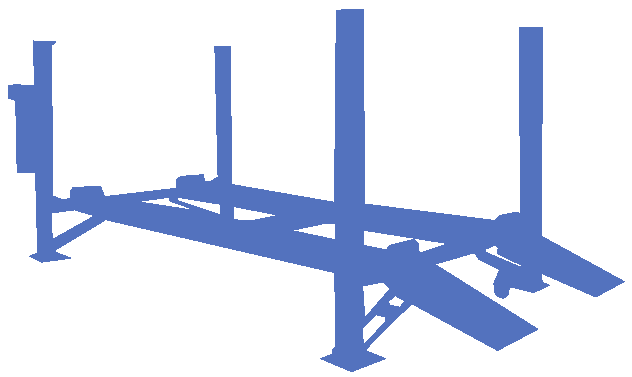 Designed primarily for the professional car, bus and truck workshops, along with vehicle service and maintenance centres, and using some of the very latest design technology, the versatile 4 Post Hoists are very much considered to be 'the garage workhorses' when it comes to all things heavy lifting.
Using a combined electric/hydraulic system and a fixed platform as opposed to telescopic arms, the 4 Post Car Hoist is more than capable of handling up to a whopping 4500kg – so anything from a passenger car right up to a transporter, and with a safe working lift height of 1850mm in a time of 50 seconds, you can see why a typical 4 Post Hoist weighs a staggering 1300kg.
When it comes to installing a 4 Post Hoist it really should be left to professional installers and a pre-installation inspection is a must, because not only will this confirm that the concrete flooring is level, it will also confirm that the floor where the lift is to be installed can take the heavy-duty anchor bolts needed to secure the four hoist post (the posts can be fixed using reinforcement plates if the concrete floor doesn't have the thickness or strength to stand the weight of four-post hoists), and, it will also confirm if there is enough ceiling space within the workshop to accommodate a full lift without causing any damage, plus it will also ensure that the minimum free space around the hoist does comply with manufacturers' operating procedures and that the lift meets the criteria set by the Australian Standard (safe work NSW), plus it will also verify that the correct power source is available, which in the case of the 4 Post Hoist is normally a 415v/50 HZ 3 phase supply.
Installation isn't the only time you should call on a professional hoist care company, service is another area where you should use their expert assistance and advise, because, when it comes to a 4 Post Hoist (or any hoist for that matter), you simply cannot afford to risk your life or that of anyone else using the equipment. So, the hoist must be serviced regularly with any defaults or issues fixed immediately.
Under the recommended Australian Standard guidelines, a suitably qualified technician should undertake a 'major inspection' annually, along with daily and weekly visual inspections by the operators.
Failure to keep up with the recommended routine maintenance schedules, major inspections and/or to compile any proper repair or service documentation, could leave you with serious issues and have an impact on both your insurance and with your Safe Work inspector should there be an incident involving the lift.
When it comes to purchasing a 4 Post Hoist there are several reputable international and local brands to choose from but, always make sure you buy the lift from a recognised dealer, and that the build quality is safe work & CE Certified.
For more information on how to choose the right 4 Post Hoist, arrange a pre-installation site inspection or for top quality professional hoist assembling, installation and hoist relocation, 4 post hoist service and repairs, plus hoist safety inspection throughout New South Wales contact us via service@hoistcare.com.au or call us directly on 0491286636. We look forward to hearing from you.