Car stacker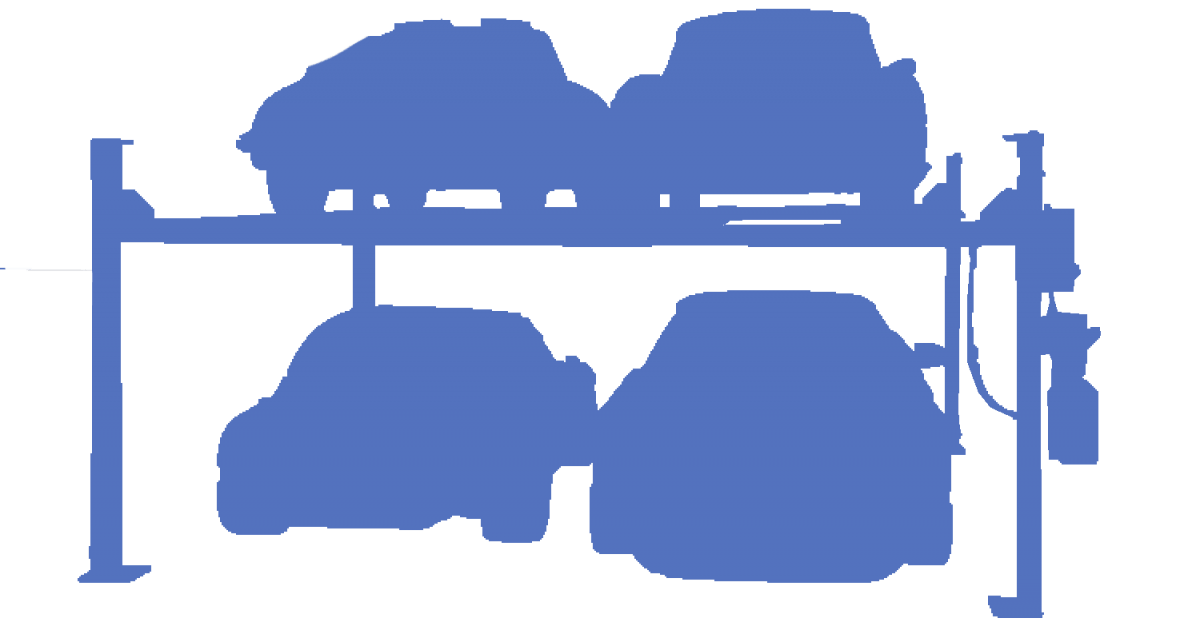 The twin car stacker offers an incredible work/parking ability and is ideal for multi-car home garages where parking space is a premium, small retail outlets and office buildings that are looking for a car parking solution, private car parks that want to increase their revenue but are space-restricted, together with car service and maintenance workshops, paint, tyre and body shops, in-fact anywhere that require a space-saving solution along with a compact car stacking facility all in one location.
Typically, a twin or 'double-wide' car parking system as they are sometimes referred to is a clear floor 4 Post Hoist that starts by offering twin upper and lower side by side parking to create more room, which can then be added on to for increased work/parking capacity.
Powered by a 2.2kW electric hydraulic motor that runs off a normal 230v household power supply, most vehicle stacking systems are capable of lifting 3600kg – 4000kg side by side, which is equal to a mid-sized SUV or family car, and will have a lifting and lowering time of 45/30 seconds.
The twin car stacker typically offers a maximum safe working height of 1850mm which is comfortable for most people to use as it allows them to work safely without straining – but, remember when it comes to the working height that's the measurement from the ground to the underneath of the car. So when you're planning for your 4Post Car Stacker installation you need to make sure you still have enough ceiling height, to safely raise the vehicles without damaging either them or the building.
And, as you would expect twin car stackers are no lightweight, it weighs around 1400kg, meaning that the 4 Posts must be installed on to a concrete floor using heavy-duty anchor bolts (the posts can be fixed using reinforcement plates if the concrete floor doesn't have the thickness or strength to stand the weight of four-post hoists) to ensure it meets with the manufacturer's safety and installation standards.
When it's time to purchase a Car Stacking Hoist, there are a few things to consider before making a final choice, including is there enough free space around the hoist to comply with manufacturers fitting instructions and to let you work safely, plus don't forget to check that the hoist comes with integral drip trays – the last thing you want is oil or fluid leaking down, and damaging the cars parked under the lift.
To help you here, there are several reputable international and local brands to choose from but, always make sure you buy the lift from a recognised dealer, and that the hoist meets not only with the Australian Standard (safe work NSW) but that the build quality is safe work CE Certified.
For more information on how to choose the right Car Stacking Hoist system, arrange a pre-installation site inspection or for top quality professional hoist assembling, installation or hoist relocation, car stacker service and repairs, plus hoist safety inspection throughout New South Wales contact us via service@hoistcare.com.au or call us directly on 0491286636. We look forward to hearing from you.