Scissor lift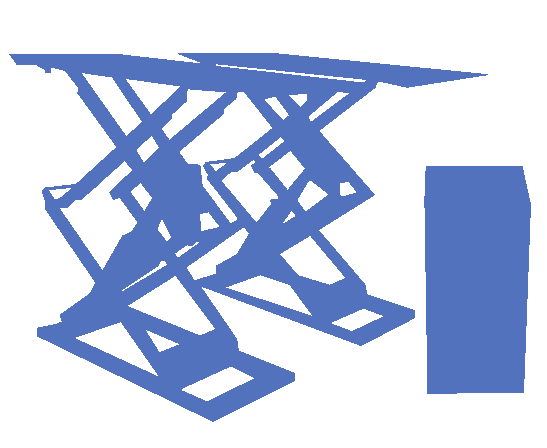 Scissor lifts, generally offer three lifting heights, ranging from 1870mm for the super heavy-duty, high-rise car lift, to 1000mm for the mid-rise, and slightly lower height of around 900mm for the motorcycle lift.
Like 2 and 4 Post Hoists they can accommodate various lifting weights from 4500kg at the top end to 400kg for the smaller lifts all in around 30 – 50 seconds, and while on the surface, these numbers and the overall lift performances are not that different from say a typical post hoist. Where the scissor hoist comes into its own, is in the fact that because of its design, it folds down flat when not in use, so taking up minimum workshop space – something that is not possible with fixed post hoist.
The other great advantage that a hydraulic car scissor lift offers over traditional car post lifts or hoists is that because of their ultra-flat construction and wide aluminium platform, they are perfect for lifting anything from a very expensive sports car to Utes and commercial vehicles. Plus, with certain makes of scissor lift, it is possible to add a set of heavy-duty crossbars to reach the lifting points on high chassis like the type you find on many SUV and 4WD vehicles.
However, despite all the good things regarding scissor lifts, their big downfall is that because the car sits on a platform when it's raised and not on its wheels as you find with a post hoist. It means you cannot inspect the total width of the underneath of the vehicle. Which in many ways makes them impractical for traditional service and maintenance workshops. Hence why you are more likely to find high and mid-rise scissor lift installation in tyre and wheel replacement shops, paint and body repair shops, quick-change oil and lube stations, high-end car valets and larger home garage.
When it's time to purchase a Scissor Lift, there are a few things to consider before making a final choice, including the size of the lift, you also need to consider if you have the correct power supply as they can vary between 400v 3 Phase for the high lifts, down to the normal household 240v for the mid-size and motorcycle scissor lifts.
To help you, there are several reputable brands here in Australia or international products to choose from but always make sure you buy the lift from a recognised dealer, that the hoist build quality is safe work/ CE Certified and that it is manufactured according to ISO9001. You should also look for a Scissor Lift that comes with at least a 2-year manufacturer's warranty.
To learn more about how to choose the right Scissor Lift, to arrange a pre-installation site inspection or for top quality professional hoist assembling, installation and hoist relocation, scissor lift service and repairs, plus hoist safety inspection throughout New South Wales contact us via service@hoistcare.com.au or call us directly on 0491286636. We look forward to hearing from you.