Tyre changer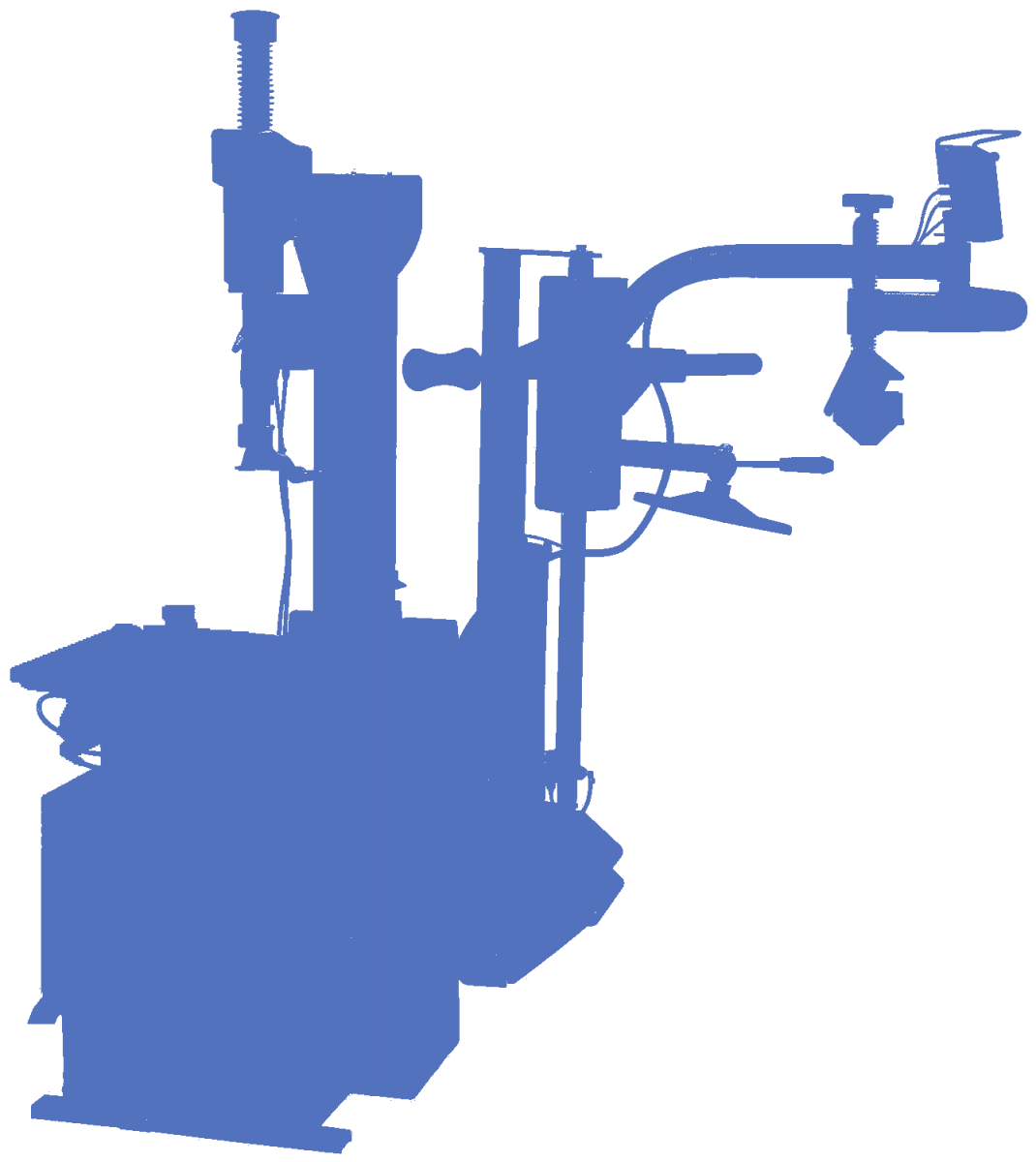 Before the introduction of the modern semi and fully automatic tyre changing machines, trying to change a tyre could be a bit of a nightmare, and more often than not you ended up damaging both yourself and the wheel rim.
However, those days are long gone, and today, the solution to changing a tyre is a sleek operation that can be achieved in a matter of minutes when left in the capable hands of a trained professional tyre fitter.
The high-tech modern tyre changing machine can make light work of everything from a regular family car tyre, up to a light truck or bus tyre, they even have the capabilities to change low profile tyres, including run-flat-tyres as well as those for sport and four-wheel drive vehicles. Plus, by using a special adaptor they can also change motorbike tyres.
Originally developed in Europe with a centre spindle that held the wheel in place, the design of the tyre changer never really changed until the 1990s and then only as a result of two things. Firstly, because wheel diameters increased in size and tyres became more low profile, and then secondly, due to the introduction of expensive specialty aluminium, painted and coated finish wheels that required and still do, the delicate handling provided by the wheel clamp style of tyre changer that is a must-have in every professional tyre fitting centre or wheel specialist.
Today's, tyre changing equipment is a robust and compact machine that works by using leading-edge technology to guide a pneumatically operated tilting column and a self-centering turntable with integrated air booster and clamping jaw system to hold the wheel firmly in place and then it uses immense pressure to force the tyre over the wheel rim one wall at a time without causing damage to either the tyre wall or the wheel rim.
When it comes to using a tyre changing machine, there are a few things you need to keep in mind, including making sure that the tyre and rim are of the same size. That you carry out a detailed inspection of aluminium rims before fitting the tyre, as any hairline cracks are often quite difficult to see and should not be used.
Also, never allow unqualified people to work on a tyre-changing machine, and that all maintenance work is carried out by professionally trained workshop personnel. Keeping your Car tyre changer in good working order will not only save expensive repairs it will also prevent injury.
When it comes to choosing which tyre changer is right for you, there are several reputable brands here in Australia and international products to choose from but, always make sure you buy the equipment from a recognised dealer, that the build quality is CE Certified and that it is manufactured according to ISO9001. You should also look for a tyre changer that comes with a minimum 2-year warranty.
To understand more about which tyre changing machine installation would be right for your business, to learn more about our service and repair expertise or about the other services we offer, including pre-installation site inspection in readiness for top quality professional hoist assembly, installation or hoist relocation, tyre changing machine service and repairs, plus hoist safety inspections throughout New South Wales contact us via service@hoistcare.com.au or call us directly on 0491286636. We look forward to hearing from you.